With almost 100,000 trampoline-related injuries being reported every year and the American Academy of Pediatrics reporting no trampoline to be totally safe, it is normal to be concerned about the safety of the jumping toy you want to buy for your family. Since children are mostly the victims of such accidents, labelling adult supervision as mandatory comes as no surprise. But what about the security features the product should come with to keep such unfortunate incidents to the minimum? Here are a few pointers.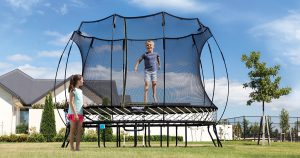 What to Look Out For In the Safest Trampolines
Safety Net
The safety net is the primary security feature of any big trampoline as it prevents jumping over the edge. It should be adequately secured to the frame at all points, preferably with interwoven shock cords and solid strapping to ensure that it doesn't come loose.
Another important factor to keep in mind is that the safety net is prone to decay or get weak with time as it is subject to a lot of pressure. So, even if it doesn't show apparent signs of ageing, it is a good idea to replace it every 3-4 months. You can get a better idea of the replacement time by raising an inquiry with the company that you are buying it from.
Mini exercise trampolines usually don't come with enclosures. In that case, check if they come with a handrail for support and stability.
A No-Gap Enclosure
The safest trampolines have their safety enclosures sewn into the jumping mat to prevent the jumper's digits or limbs from getting stuck in the springs. Also, if the safety enclosure is not attached as described above, the jumpers may fall sideways or completely off the trampoline. It happens when he lands on the safety net and ends up in the space between the net and jumping mat and, subsequently, on the ground.
If the enclosure is placed outside the perimeter of the mat, then the springs should be covered with foam safety pads and checked regularly to ensure they haven't shifted, exposing the springs.
Age Appropriateness
Always check the product specifications to know what age it is meant for. There are kids only, adults only and both kids' and adults' trampolines. In the kids' category, there are trampolines meant for toddlers and ones for older children. If the label doesn't mention the appropriate age, you can enquire the manufacturer about it.
Weight Capacity
We know that most of you are very particular with this specification as manufacturers are always bombarded with questions on the maximum load the product can take. We appreciate it and do not deny its importance, but we recommend never allowing more than one kid at one time on a trampoline. It reduces the chances of bumping into or landing on one another and accidentally pushing one towards a metallic pole or spring.
Shape
Round trampolines are the safest for recreational users as the springs around the perimeter get activated on jumping, pulling the user towards the centre with each bounce. It is not the case with other elongated shapes of trampolines as not all their springs engage at the same rate calling for greater rebounding control.
Assembly
Proper assembly is crucial for the safety of your toy. So, you should always read the assembly instructions carefully and follow them diligently while setting it up. Some trampolines may be difficult to assemble and require more than one person to set them up. One wrong step and your safety goes for a toss. If you find the accompanying instructions intimidating, you can search the internet for a how-to-assemble video for the model. Some products even come with assembling videos.
Weather Protection
If your trampoline doesn't come with a rain cover, it makes sense to buy one. It is because constant moisture may cause the toy's joints to rust and weaken its parts, making it generally unsafe for jumping on. Also, water accumulated below the jumping mat makes it very unsafe as children may fall into it. And, although most top-notch trampolines promise weather resistance, it is recommended that you bring your trampoline indoors (with or without taking it apart, depending on the size) if it snows. You should also avoid getting direct sunlight on your trampoline. Play safe by placing it under a tree.
Keep checking your trampoline from time to time for early signs of wear and tear and consider a replacement part if you find any.
Other Factors
All the hard metallic surfaces should be covered. The poles and springs should be padded with high-density foam to avoid injuries by falling on them.
Trampolines with W or U-shaped legs ensure greater stability and balance as they have a large no. of contact points with the ground. So there are fewer chances of the toy toppling over. Additionally, you can use an anchor kit to secure the trampoline to the ground if you have over-enthusiastic jumpers around.
If it's toddlers and young children who will use the trampoline, you should not forget fitting it with a ladder for safe climbing. It is also safe for older children to use the accessory though they might not need it.
A lower enclosure over the legs prevents debris, balls and other things from getting below the jumping surface, ensuring safety. It also doesn't allow kids below the trampoline when it's in use, avoiding possible hurt.
Always ensure that there is clear space above, under and around your trampoline. Experts recommend at least 2-3ft clearing around the toy. There should be no carports, hanging branches of trees or wires above the jumping area. It should also be placed as far away from water bodies as possible.
Top Picks
Safest Trampoline: Springfree Jumbo Round Trampoline
Safest Backyard Trampoline: Springfree Jumbo Round Trampoline
FAQs
Are in-ground/sunken trampolines safer?
In-ground trampolines are safer as they are flush-to-the-ground and not raised above the ground level reducing the chances of injuries from falls and hitting the frame or springs.
Are mini trampolines safe for 2-year-olds/toddlers?
According to the American Academy of Pediatrics, there are high risks of injuries if a child below the age of 6 uses a trampoline. So it is definitely not recommended.
Are springless trampolines safer?
The Springfree brand of trampolines claims to be 90% safer than regular trampolines as they replace the metallic springs with fibre poles. Plus, their frames are placed far beneath the jumping surfaces eliminating any chance of hitting them and getting hurt.
Are trampolines without nets safe?
No. However, mini trampolines without nets but with handlebars are considered safe.