These days, it is difficult to keep your kids away from the mobile, computer or video game screens and these could even take a toll on their health. To encourage them to go outside and play, trampolines could be an excellent option that even scores high on the fun. What's more, you couldn't find a better way to infuse exercise into their playtime! It could pump up their heart rates as they sweat it out while jumping. However, buying one for your child could be a tricky affair as there are some safety concerns that need to be addressed.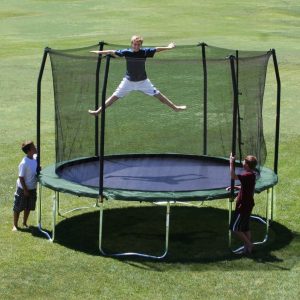 Are Trampolines Completely Safe for Kids
To go by American Academy of Pediatrics' reports, 75% of accidents occur when there are multiple children jumping on a trampoline. Younger kids run a higher risk of getting themselves injured on the trampoline. Common injuries happen from falling off the trampoline or hitting the hard metal frame. So it is advisable to check if the trampoline has its safety features in place and keep children under adult supervision during the bouncing time.
What to Look for When Buying a Kid's Trampoline
Safety Features
The safety measures that the trampoline has to offer should be on top of your list of things that you want in your purchase. It could be in the form of safety enclosures, handrails in mini trampolines for preventing falls and maintaining a good balance.
A direct connection of the safety net to the jumping mat eliminates gaps and prevents little ones from getting stuck. Padded springs and poles protect kids from any contact with the metal frame. W or U-shaped legs with a large number of ground contact points make the trampoline stable, safe from tipping over.
Size
Space constraints are an important factor in choosing a trampoline for your kids at home or for your yard. The trampoline should fit the space that you have allotted for setting it up with enough room on all its sides for mounting and dismounting.
What Age it is Suitable For
It is always advisable to check the recommended age of the trampoline that you are looking to buy though most trampolines are not very strict with their age limits. Most of the trampolines don't recommend kids aged below 3 years on them as they would find it difficult to balance themselves and maintain stability.
For toddlers, you can go for the mini trampolines or rebounders that have less bounce and come with handrails for support. Your kid may be small, say 4 years, but you might like to go for a bigger trampoline that will allow him to use it for many years.
Ease of Assembly
People often prefer to buy trampolines that have minimum difficulty in assembling and can be put together by fewer people in little time. It is also preferable that there is no need for any extra tools and the product comes with a clear instruction manual. Having said that, in most cases, a decent level of physical strength and at least two persons for assembly can't be avoided.
Durability
Since the trampoline bears the brunt of innumerable jumps for extended periods, it should be so built to be able to stand the test of time, unflinchingly. Sound knowledge of the materials that go into the making of the trampoline, checking the product specifications for its rust-, UV- and weather-resistance would let you make a good buying decision.
Having a trampoline cover really helps in increasing the longevity of the product. If the trampoline doesn't come with one, you can buy it separately.
Price and Warranty
As with any other product that you buy, the cost-effectiveness of your purchase is always an important factor to consider. If the product is covered under a warranty then you are buffered from extra costs incurred due to possible mishandling.
Top Picks
Best Trampoline for Kids: 2019 Upgraded Dinosaur Camo Foldable Kids Trampoline with Handle
Best Mini/Small Trampoline for Kids: Toddler 36″ Trampoline with Handle
Best Kids' Indoor Trampoline: Trampoline for Kids with Net – 5 FT
Best Kids' Trampoline with Handle: JumJoe Kids Trampoline – 36 inch, with Handle bar
Best Kids' Trampoline with Safety Net: Little Tikes 7′ Trampoline
Best Kids' Gym Trampoline: 2019 Upgraded Dinosaur Camo Foldable Kids Trampoline with Handle
Safest Trampoline for Kids: Trampoline for Kids with Net – 5 FT
Best Outdoor Trampoline for Kids: Little Tikes 7′ Trampoline
Best Kids' Inflatable Trampoline: Lifespan Kids Inflatable BounceFort Plus 2 Bouncefort
Best Kids' Single Trampoline: SereneLife Serene Life – Sports Exercise Spring-Less Kid Size Trampoline
Best Trampoline for 2 Kids: Trampoline for Kids with Net – 5 FT